June 20, 2016
Champions For Charity – Learn from a Boxing Champion + Sparring with Jeff Horn (Valued at $3000)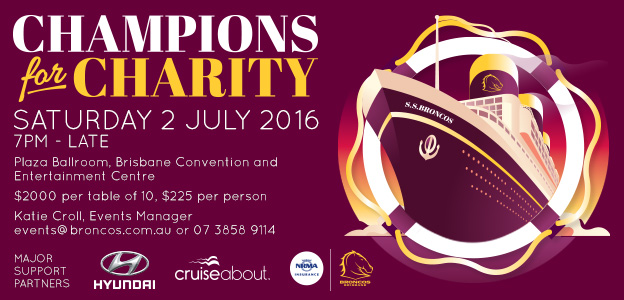 Champions For Charity – ON SALE NOW!
Dundee's Boxing and Fitness Gym has partnered up with the Brisbane Broncos to raise money for charity. Dundee has been given the opportunity to raise money for the great cause  offering to:
Become your best with this one of a kind opportunity to learn boxing techniques and principles while increase your fitness with 7 x 1 hour sessions with amateur boxing champion Dundee Kim. After these 7 session you'll show off your skills by sparring with the World Boxing Organisation's fourth ranked champion, Jeff Horn.
Value: $3,000 (Starting at $500)
On Saturday 2 July the annual Broncos Champions for Charity will take you on a voyage across the high seas as the Brisbane Convention and Exhibition Centre is transformed into the S.S. Broncos.
Join the Brisbane Broncos in bidding up a storm as we raise money for the Brisbane Broncos Charities Fund.