March 23, 2016
A Solid Victory For Our Trainer Dan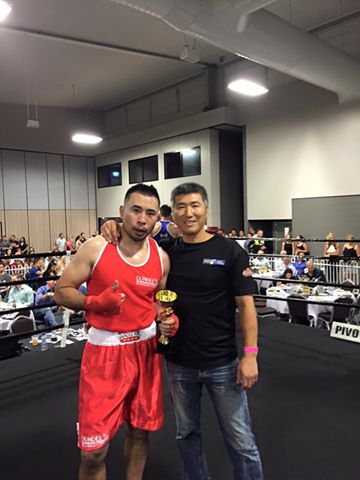 Dundee Kim and many of our other staff stood witness as Dan Huh, executive supervisor at Dundee's Boxing and Fitness Gym, and who is also one of our trusted trainers, won the gold trophy for competing in a boxing match back in February.
Our big thanks to Joseph Goodall, Steve S. and also to Jeff Horn, the ambassador for our kids boxing program, for their overwhelming support for Dan.
It was Dan's first bout and the tension was running high for the new fighter, but the long hours he spent practising in Dundee's gym became an asset to him as he strived through in the end, ultimately succeeding in getting his first win. Dan has admitted that there could've been room for improvement, though that only speaks to his commitment and dedication to the sport.
"There is much i need to learn and revise on my first match. I admit i could've done better….in the distant future I WILL."
Dan Huh is an  AIF Cert 3 & 4 Personal Trainer at our gym with experience in boxing and bodybuilding and specialises in weight loss and toning up our clients, some of which also came through to show their support.
"Thank you all for getting me here with all your upmost support, cheers, screams and sage words! This is all for you all" said Dan in his Facebook page.
Dan will be working hard at our West End gym yet again as his next endeavour will be in a fitness model challenge in May.