December 20, 2017
Yeronga Opening Party: Lord Mayor Graham Quirk and Jeff Horn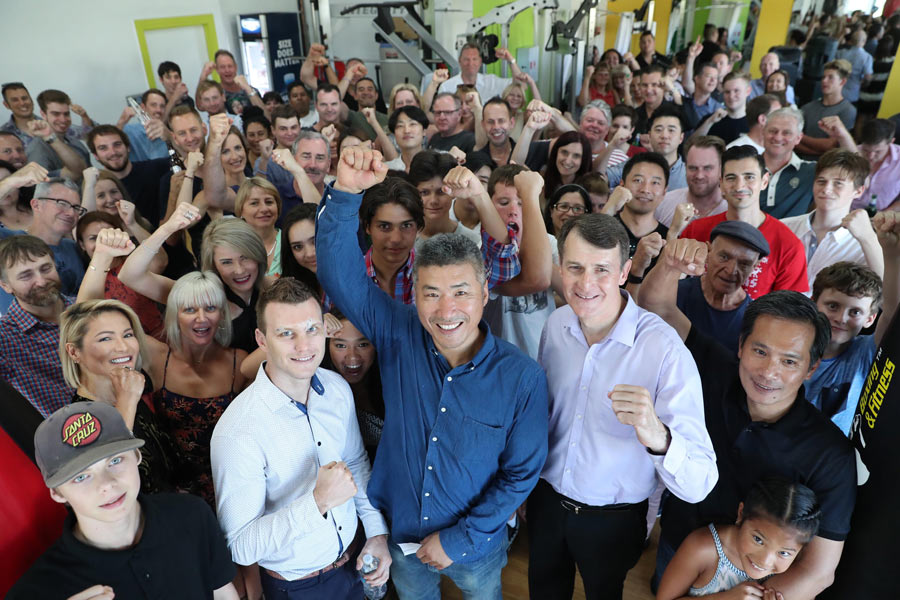 We had a lot to celebrate this weekend. Firstly, we celebrated the grand opening of our Yeronga gym. After countless hours planning and preparing, we're quite proud of how far we've journeyed along with our clients.
Secondly, we celebrated Jeff Horn's victory over Gary Corcoran to retain the WBO welterweight title.
We were joined by new and existing clients who have been with us from our earliest days, as well as some distinguished guests such as Lord Mayor Graham Quirk, former Miss World Australia, Tess Alexander and Grand Slam Australia player Alicia Smith.
We'd also like to give a shout out to 3 youths – we're so proud of your progress:
Braden, who was in an accident few years a go. He can now walk and stand on his own – we'd like to give credit to trainer Andrew An.
Michael, who has much more self confidence in public, and Carlo, who has been training his core and leg. His hips and legs broke when he played with swings at home and fell on the ground. The doctor said he's lucky he can continue training boxing because the muscles he gained when training here protected his nerves when he hit the ground.
It was a great day – see you all in the gym!
Some words from the man himself, Dundee Kim:
"I appreciate all my trainers well looking after clients. Also Branch manager Dan and Yeronga gym manager Andrew without your help I couldn't have achieved this much so far.
I am also very grateful to all my clients who believed in me and my trainers' service who continue to help me as gym ambassadors. Most of our ambassadors have been training at our gym between 6 to 10 years.
Another further super star Tennis player Alicia Smith Grand Slam Australia open player.
One of most outstanding successful case Jeff Horn, beat Manny Pacquiao second of July. Created biggest boxing history in Australia. Also Jeff beat Hellraiser on Wednesday night. We are also looking forward to creating more world history when he beats Terence Crawford coming in Las Vegas.
And most importantly I'd like to thank my beautiful wife and children."
Our major sponsors:
Sommer & Staff constructions
Recon solutions
Hannay lawyers
Davran Developers
Optima Nutrition
Find out More About Our Yeronga Gym