Testimonials and Reviews About Dundee's Boxing & Fitness Gym
It's our never ending goal to train and improve the lives of our clients. Just some of our clients' achievements include:
Achieving medals in international boxing tournaments
Obtaining finalist positions in fitness model competitions
Competing on the national stage for sports such as tennis
Losing weight and achieving optimal fitness without the need for supplements or unhealthy diets
Yeronga success – Rachel's transformation
See why Mark has been in our gym for over 7 years
We're so proud of what you've achieved, Helen!
See what Jane has to say about her experiences with Dundee's Boxing & Fitness:
Liz discussing her experiences with Dundee's Boxing & Fitness:

Brad discussing how he lost 19kg through Dundee's Boxing & Fitness:
Testimonials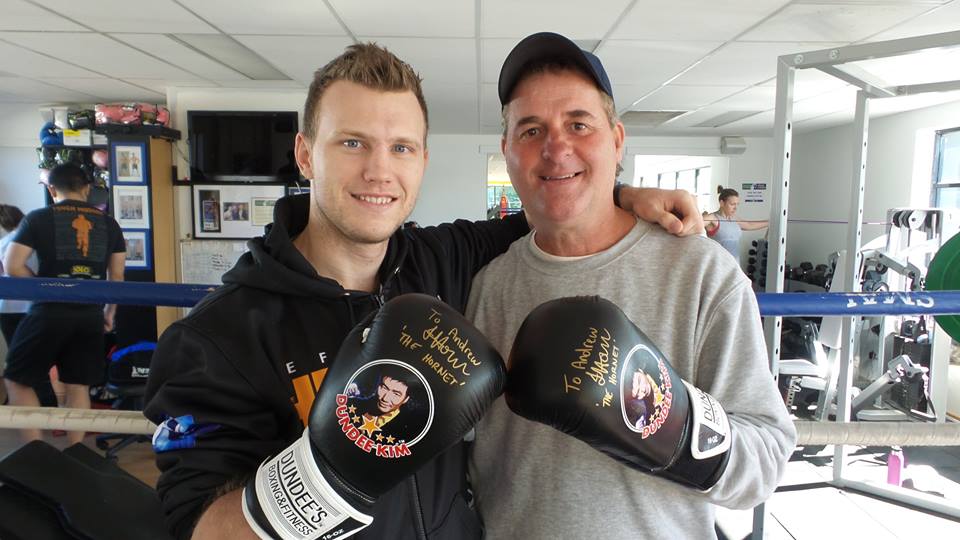 "The father of Jonathan Kim (Year 9) trains World No# 4 boxer Jeff Horn. I had the privilege of watching them train today and also ask a million questions over lunch. I have never seen such an intense training session in my life! It was not just boxing, it was so many different training techniques which really surprised me. To see what it takes to be a world Champion was amazing.
Dundee Kim is a guru! He also helps people with all types of medical issues. It was great to watch a session and understand what it takes to be the best in your sport.
A big thanks to Dundee Kim and Jeff Horn!"
–  Andrew Rolph, Tennis Coach, Brisbane Boys College (BBC)
"The team at Dundee's Boxing and Fitness have helped me tremendously with my health and fitness. Through boxing, weight training and other workouts specific to my situation, I've been able to relieve stress from work and generally be a healthier person in both body and mind. It's a great gym environment that's perfect for those in the corporate sector like me."
– Damien Frawley, Chief Executive Officer, Queensland Investment Commission

"I wanted to share what a motivation you have become for me. I bask in your energy and pick up a range of ideas of how to teach certain skills with approaches I would never have considered."
– Steve Nelson (to read the rest of his testimonial, visit our Facebook page)
"I have been training with Dundee for approximately 14 weeks and absolutely love it! Since starting I have lost over 12kg. I'm toning up, I feel stronger and my cardio has improved immensely! I feel great and love the boxing! Many thanks and much appreciation to Dundee Kim for getting me back on track to living a healthier lifestyle!"
– Rhonda Purcell
"I am 50 years old. I gave up smoking a year ago and put on 11 kg in the next 6 months. I tried to change my diet to exercise more and for a few months my weight stopped going up but could not lose it. Some friends told me about Dundee Kim's Boxing & Fitness, so I gave it a go. I lost the 11 kg in the first two months and then lost another 8kg in the following two months. I lost a total of 19kg, and now I feel better than I did when I was 40. I no longer feel tired, sore and restricted. I owe it all to Dundee's Boxing & Fitness gym and his staff and am still amazed at how much fun I am having doing this. The culture is very welcoming and supportive and friendly. It is definitely the best thing I have ever done for my quality of life."
– Leighton Cole
"Dundee and his team provide a professional, clean and friendly environment to achieve your fitness goals. Dundee's personal approach is very refreshing; over the last three months he has developed a diet and training plan that fits in with my work and personal commitments. I now feel fantastic and have my weight under control, all thanks to you guys!"
– Joseph Borger
"As I approached 'middle age' I sought to improve my fitness, body, mindset and overall health. This I have achieved in a very short time, lost 14 kilos, toned up and am learning boxing for self defense but it is fun also. Everyone who attends Dundees' gym are doing so for the same reasons so there are no posers; everyone is approachable and friendly – a great environment to achieve your goals…"
– Brent Ffewkes
"I am 27 years old and have been training with Dundee Kim at Dundee's Boxing and Fitness Gym for 6 months. When I first started training with Dundee, I weighed 89kg and in just 12 weeks I lost 11kg while following Dundee's training regime. Over the last 6 months I have also learnt correct boxing techniques. Learning correct boxing technique is more physically demanding then just throwing punches. You learn how to use your whole body, making your punches more powerful, your movements a lot quicker and as a result you get more of a workout then just hitting pads or a bag. By training with Dundee and learning correct technique, I have and still am increasing my fitness level, muscle mass, body tone, hand-to-eye co-ordination and focus, as well as increasing my life span. The only thing that I have lost while training, is fat. I am a lot happier with life and have a lot more energy. Thank you Dundee for everything you have done."
– Ian Foreman
Watch some more testimonials and reviews of our Brisbane gym here:
http://youtu.be/A_uhjauX2_0 http://youtu.be/AF8OTmTaSyQ
http://youtu.be/NxqKZTLrCJo http://youtu.be/4LSO8WQM3qw
http://youtu.be/PB1Xk4k4mcQ http://youtu.be/idnPMFWHk98
http://youtu.be/kIz1j1oAp7s http://youtu.be/J8a9JGUC288