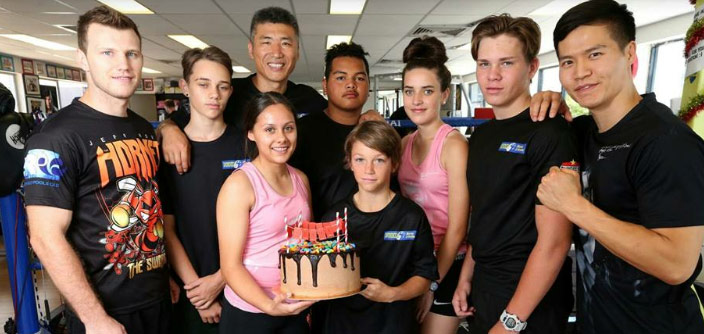 Have a great, active day out with friends and family
Be trained by professional trainers accredited by Fitness Australia
Packages also available for schools
Boxing & Fitness Kids Parties in Brisbane
Looking to host a kids party in Brisbane? Forget being confined at home with junk food – have a fantastic day out with family and friends with a kids party at Dundee's Boxing & Fitness Gym in West End.
For only $35 per attendee, everyone will be trained by three qualified and professional trainers accredited by Fitness Australia (they also hold blue cards). The 1.5 hour workout will include games, boxing and fitness exercises.
Work out plan includes:
2 minutes skipping, punch bag
Bike, squat, plank
Banana game
3 rounds boxing pad workout
Kids fitness competition record: Planks, abs and squats
Noodle game
Refresh and party!
School activities also available
Bored of your current sports routine? If you're looking for some unique and fun sports activities for your students/classmates, we also have group kids boxing programs available. We also have kids boxing programs for individual children or siblings looking to improve their fitness and technique.
Safety First
We understand that children are still developing. Thus we do not allow children to spar with one another or lift heavy weights. Although every form of exercise has its risks, our seasoned and accredited trainers supervise every activity with care.
Book a kids party today!
Our kids' boxing and fitness parties are one of the most popular programs in our gym. They can be hosted every Saturday, from 3pm. If you'd like to host a kids party in Brisbane, make sure it's with Dundee's Boxing & Fitness. Contact our gym in West End today to find out more!
IMPORTANT: For health and safety, children MUST wear closed sports/running shoes. During the party, they are not allowed to use or touch the gym's weights and weightlifting equipment.
Kids parties, Brisbane: photos
Here are a few photos and videos of recent kids parties in our gym.
Some food we serve: