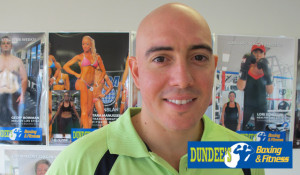 Enjoy your own professional dietitian to help achieve your fitness goals
Has extensive experience in a range of needs and medical conditions
Dundee's discount: services cost only a third of market price
Good exercise can only be balanced with a good diet. That's why we are now offering a professional, experienced dietitian to provide you with tailored consultation at a fraction of the cost of going to market.
He'll be able to work one-on-one with you to help you form a plan according to your own body type, fitness level, health and needs.
Meet Sav – our new dietitian
Sav Manolis is an Approved Practising Dietitian with the Dietitians Association of Australia. He has completed a Bachelor of Health Science Nutrition (QUT) and a Masters degree in Dietetics at the University of Queensland.
His insight can bring the best out of your fitness goals, whether you want to:
Tone up
Lose weight
Improve your health condition/s
Improve your muscle mass
Prepare for competition
Or just wanting to maximize the most out of your workout
His dietitian services include:
Sav is passionate about food and promoting health through nutrition. He encourages a holistic approach to health with focus on the emotional, physical and environmental factors that influence behaviour. Sav is dedicated to his patient's needs, conditions and individual goals and is committed to providing nutrition education, realistic advice and planning specific to your requirements.
Healthy Eating, Weight Loss and Weight Management
Diabetes Mellitus (Type 1,Type 2 and Gestational Diabetes)
Cholesterol, Blood Pressure and Dyslipidemia
Coeliac's Disease, Inflammatory Bowel Disease and Irritable Bowel Syndrome
Food Allergies and Intolerance
Liver and Kidney Disorders/Disease
Osteoporosis, Arthritis and Rheumatoid Arthritis
Child and Adolescent nutrition
Pre and Post surgery and Cancer related conditions
Pricing – enjoy Dundee's Discount:
We have negotiated special pricing with Sav. Now, clients from our gym in West End won't just get the benefits of our personal training services, they'll also be able to receive three professional consultations for the market price of one.
For only $199, you'll get three one-on-one consultations that can improve your life forever:
Initial consultation:
– Anthropometric measurements and body composition
– Provide education
– Meal plans
Subsequent consultations:
– Review, monitor and evaluate results
– Monitor, review and evaluate client anthropometric data and body composition
– Review and evaluate current meal plan
– Meal plan (specific to client long term maintenance)
Contact or visit our gym in West End today to find out why boxing can be an ideal activity for your child.