January 31, 2020
Dundee Kim Resigns as Jeff Horn's Strength, Conditioning and Pad Coach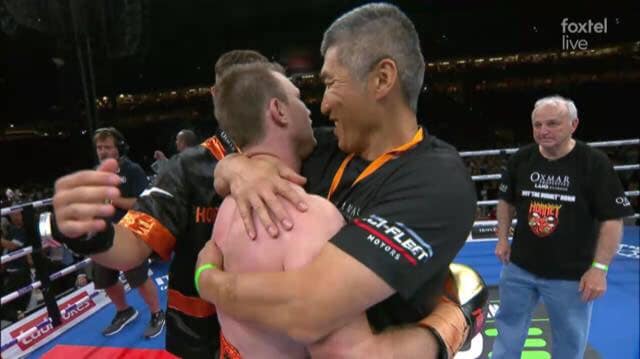 On 8 Jan, 2020, Managing Director, Dundee Kim, announced on social media that he will be resigning as Jeff Horn's strength, conditioning and pad coach.
This is what Dundee has to say:
"I extremely proud of what Jeff Horn has achieved and have had an unforgettable experience being part of the team.
It is heart breaking and very sad but from 2020 I have decided to resign as Jeff Horn's strength, conditioning and pad coach.
Over the last six years, I've had an amazing journey with team Jeff Horn. From 2013 to 2019, I've been involved in 16 fights out of 20 fights.
During his 16 matches, Jeff Horn has only lost 2 fights. The biggest was his WBO World Title defense against Terrance Crawford in Las Vegas.
Also the most memorable match was Jeff horn defeated 8 division World Champion Manny Pacquiao.
I was in the middle of boxing ring in a crowd of 52,000 at Suncorp in Brisbane, Australia, 02/July/ 2017.
And I checked Manny Pacquiao hand wrap and glove at dressing room before the fight started it. This is a memory that gave me tremendous experience.
Jeff Horn lost to Michael Zerafa in August 2019 at Bendigo but Jeff Horn bounced back and claimed a dramatic victory against Michael in December 2019.
Thank you to Jeff for trusting and following me. A big thank you to Glenn Rushton and corner man, Ben Horn, Adam Copland. Special thanks cut man Stephen Edwards and Tyrone Tongia
I would also like to thank sponsors Steve Scanlan, Dan Burley and Daniel Hannay for helping Jeff Horn early his career. When Jeff had no sponsors I was very proud to be able to persuade these two to get behind him.
Huge thank you for my gym clients for attending the fund raiser event in 2014 to get Jeff to New Zealand.
Huge thank you so much my trainers for welcoming Jeff every time come to our gym
Huge thank you to Grantlee Kieza all your amazing article about me. You help so much for being a top performer in promoting Australian boxing.
Huge thanks also to main event announcer Ben Damon and many media officials.
Finally thank you so much for my wife. She helped me silently whatever I did.
And thank you to Jeff Horn and his parents, I wish you many good things in the future and thank you for the journey."